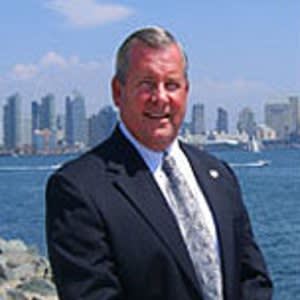 John has been a part of the San Diego community for many years, growing up locally as a second-generation San Diegan. His Law Enforcement career spans over 34 years and began when John was 16 as an El Cajon Police Cadet and ended with retirement as a Captain with the San Diego Police Department. He spent well over two decades as a San Diego Police Officer, where his notable career involved being the S.W.A.T. Team Leader at the McDonald's Massacre and investigating the "Stolen Tank" from the Kearny Mesa Armory, officer-involved shooting incident, among other well-known events. John has been awarded over 70 departmental and citizen's commendations and citations. He is recently retired from the San Diego County Sheriff's Department.
John has been an attorney since 1991 having attended the Thomas Jefferson School of Law where he made the National Deans List. He was a judicial extern for the Fourth District Court of Appeals and an Intern for the San Diego City Attorney's Office. He holds an Associate of Science Degree in Criminology, a Bachelor of Science in Law, and a Juris Doctor. John is an adjunct law professor at several local San Diego colleges and is an academy instructor at the San Diego Regional Public Safety Institute. John is also an Associate Judge for the Intertribal Court of Southern California focusing on civil law issues (Indian Tribal Court Judge). He is a Certified Litigation Professional in Public Employment Litigation and a trained mediator from the San Diego Mediation Center.
As a lawyer, John has been involved in extensive litigation and motion work. He has defended police personnel files, authored responses to discovery requests, lawsuits, interrogatories and has advised hundreds of Police Chiefs and Sheriffs on First, Fourth, Fifth, and Fourteenth Amendment rights issues along with a long line of civil litigation issues. He currently trains new deputies and law enforcement officers on civil liability/sexual harassment issues, use of force, laws of arrest, criminal law, search and seizure, and evidence and ethics. Previously in his legal career, John was a named partner in a successful law firm that focused on personal injury cases for law enforcement officers, their family, and friends.
John was honored when he was asked to join the Schroth and Schroth Law Firm.
"I have had well over 28 years of a close personal friendship with Robert Schroth the Senior Partner and his son, Rob. I have seen the extra time and personal attention they both give their clients. As you can see "they are good" and they "get good results" for their clients. I have the highest respect for my law enforcement family and I want only the best for them, that's why I am honored to be a part of this Firm."
EDUCATION
JD - Thomas Jefferson School of Law, 1991

Dean's List

BA - Western State University

Major: Law

Associate of Science: - Criminology
BAR ADMISSIONS