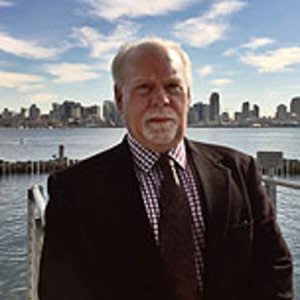 Robert E. Schroth Sr. was born and raised in Trenton, New Jersey. The son of a second-generation Ironworker and a mother who worked for the New Jersey Attorney General's Office, Bob began his interest in the law through his mother's work at the Attorney General's Office. After graduating from high school, Bob attended the University of Tennessee where he played football.
While attending school, Bob worked with his father as a union ironworker during the summers and school breaks and became a member of the International Association of Bridge, Structural, and Ornamental Ironworkers, Local No. 68. Bob served as the union steward on many jobs and as a foreman on others, putting up steel buildings from New York to Philadelphia.
In the mid-seventies, Bob moved to San Diego with his son Rob, Jr. to further his education. As a single Dad, Bob was quite busy working as an Iron Worker, going to law school, and raising Rob, Jr.
In December 1981 Bob graduated from Western State University School of Law, now known as Thomas Jefferson School of Law. Passing the bar immediately after graduation, he opened the Law Office of Robert E. Schroth in September of 1982 in downtown San Diego. From that point on, Bob focused mainly on plaintiff's personal injury, employment discrimination, business litigation, and criminal law. Because of Bob's association with the Ironworkers and extensive knowledge of construction and construction safety, he was quite successful early in his legal career, representing ironworkers and other tradesmen who had been seriously injured on jobsites.
In 1990 the Schroth family moved to Jackson Hole Wyoming and Bob began many years of splitting his time between San Diego and Jackson. The family also became involved in a working cattle ranch. In 1991, Bob opened a second law office in Jackson Hole, and for the past 19 years has split his time between the San Diego and Jackson offices. The practice in Wyoming is more diversified with the addition of family law cases, but trial work in personal injury, business litigation, and criminal law is still the main focus.
Today, Bob has the thrill and excitement of having his son Rob as his law partner. Bob enjoys his profession and works very hard for each and every client. His combined settlements and jury verdicts are in the multiple millions of dollars.
EDUCATION
JD - Western State University School of Law, 1981

BA - University of Tennessee
BAR ADMISSIONS